PROJECT REVIEW: Website Design / Development
CLIENT: Simply Elegant Events - www.mysimplyelegantevents.com
Client Introduction:
Simply Elegant Events is a new, personalized, wedding and special event planner for the St. Louis, MO area. They offer a variety of Special Event Planning Packages, including bridal / wedding, birthday, anniversary, engagement, showers, holiday parties, and corporate event planning for St. Louis, Chesterfield, and surrounding area.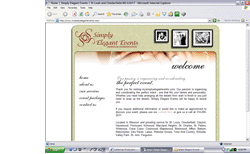 Project Overview:
bdHarman Productions had the opportunity to assist Simply Elegant Events by designing a website which would establish their internet presence. The color scheme and overall "feel" of the site was influenced by the existing logo and marketing materials. The objective was to create a simple, yet elegant environment that would provide information and brand their services.
Custom Graphics:
All graphics including titles, headings and icons, were designed with the set color scheme and adopted characteristics of Simply Elegant Events logo.
Portfolio Photo Gallery
Search Engine Optimization:
Complete Meta Tag development on all pages.
Custom Contact Form:
Contact form collects user's input data, organizes and delivers it to Simply Elegant Events.
Promotions:
Developed custom search engine optimization standards for target market.